Virtual Art Therapy Courses
I am so excited to introduce you to our new virtual college.
Despite the prevailing uncertainty facing many today, we tackled the challenge that COVID-19 presented to CECAT and our students, and we've taken a proactive step.
We have now built a beautiful, engaging virtual learning platform on our secure website.
Yes, you can now do our art therapy courses entirely online through our virtual college. And for those who prefer to work offline, you can easily download our course material in PDF format, too.
There's never been a better time to study online and I am thrilled to offer this new learning platform to you.
Virtual Course Content
Our interactive online learning platform consists of content, graphics, short videos and downloadable PDFs for each student to enjoy a comprehensive learning experience. Plus, the interactive course progression functionality will help keep you engaged and on track throughout your self-study.
Privacy & Security
Along with securing our own online content and data at CECAT, the security and privacy of our students is paramount. Our secure online environment offers our students peace of mind.
Enrolment Process
The entire enrolment process is now handled smoothly and easily via the virtual college enrolment checkout platform. No more downloadable registration forms! Plus, you'll now have a personal account on our platform where the information you need is easily accessible.
Art Therapy Webinars
I am looking into the possibility of offering "live" webinars at some point too. Watch this space for more details.
Technical Support Desk
To ensure that I can focus on the education and training of our students, I have created an IT Support Desk to handle any technical queries that may arise. Whether it's an account or password issue, course access difficulties, enrolment checkout problems, or any other glitch or bug that can happen in an online environment, Craig at our Support Desk has got you covered. He can be contacted via the virtual college's Contact Form.
Pursuing a Comprehensive Education
While students can now complete the entire course online, we still highly recommend taking advantage of our on-campus Intensives when they resume. (We'll notify you of this via our monthly newsletter. Subscribe today if you have not yet done so.)
After completing the online modules via self-study, participating in an Intensive hosted in an Australian city is the recommended pathway for those pursuing a holistic education. For students unable to participate in one of our on-campus Intensives, Skype meetings are available.
The virtual college now gives you options. You can enrol in the online course and Intensive in one step by ordering what we call the Certificate Bundle or the Diploma Bundle. Or you can enrol in the online course and add the Intensive or the Skype Addon down the track.
Virtual Art Therapy Courses
Without further ado, I invite you to explore our virtual college today! You can get your journey in art therapy going in double-quick time.
If you have any questions, please let me know via the contact page. I look forward to hearing from you.
Return to the main website if you'd like to see all we offer at CECAT.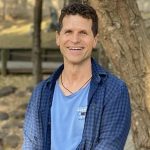 Robert Gray
Director and Senior Lecturer at CECAT
Registered Art Therapist and Psychologist
MA A. Th., AThR; B. Soc. Sc. (Psych.) (Hons.), MAPS.; BA. Theol. (Hons), MA Theol.
A highly regarded art therapy lecturer from Germany, Robert Gray has become a much sought-after art therapy lecturer and practising art therapist in Australia. His unique approach spanning psychodynamic, humanistic, spiritual and cognitive behavioural frameworks has distinguished him as a thought leader who is frequently invited to present at conferences in Australia and abroad.
Trained overseas and multilingual, German-born Robert shares the benefits of his international affiliations and access to cutting-edge research published in various languages with his students and readers. Robert is a professional member of the Australian and New Zealand Arts Therapy Association (ANZATA) and the Australian Psychological Society (APS).